We all love living in Norwich and not only enjoy researching and documenting projects but also being able to share our work. We are the first to admit that we are more "enthusiasts" than historians and although we set ourselves high standards believe that such activity should be fun. As a group of friends we can all work to our strengths which allows us to present our work in a variety of media i.e book format, the website, presentations & by film.
Frances & Michael Holmes.




Michael has lived in Norwich all of his life, Frances arrived in 1983 for a year but could never find a good enough reason to leave! After a career in IT, Michael is the group's technical expert whilst Frances' background, involving links with both the corporate and voluntary sectors, is used to good effect in organising & researching. We both particularly enjoy meeting and working with a huge range of people from many different backgrounds and helping to preserve & promote Norwich's rich heritage.
Paul & OlwynVenn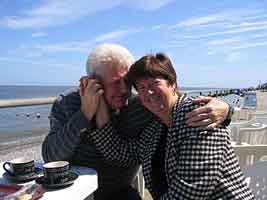 Olwyn and Paul Venn first visited the City in the spring of 1995 with the intention of 'doing the history' in a week and then departing! Sufficient to say they kept returning, buying their home in 2001 and completely relocating in 2002. Olwyn is a chartered librarian and ran the information provision for a London borough and Paul had international businesses based upon computer software. Their interests are varied and include history, culture, travelling, and photography. They hope to keep learning about this wonderful city that has been so welcoming to them.
Jude Sayer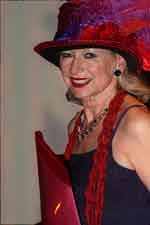 Jude Sayer is our resident Blue Badge Guide, former Chairman of the Association of the City of Norwich Tourist Guides, a Member of the Guild of Registered Tourist Guides, and the Institute of Tourist Guiding, as well as being actively involved in a number of heritage societies. Originally from Kent, she moved to Norfolk in the mid 1970s and thinks she might stay on! Apart from local and English history, her interests are wide-ranging and life-enhancing, including her role as Queen of the Norfolk Broads Chapter of the Red Hat Society, the international dis-organisation for women dedicated to growing older disgracefully.
Mike Dixon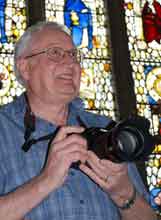 Mike has taken all of the photographs for the Norfolk Stained Glass site. In a previous life he specialised in motor sports photo journalism and still actively participates as a race marshall. The stained glass may not move so quickly as Formula 1 but is sometimes just as difficult to capture. If any photographs are required for educational or similar uses Mike is happy to provide higher definition versions but clearly will not authorise any commercial use of his work.