Nicholas Stone 1585 - 1647
Nicholas Stone, sculptor, master mason, and architect, was born in Devon, probably at Woodbury near Exeter, the son of a quarryman. He served for two years as an apprentice and for a further year as a journeyman under the London sculptor Isaac James. In 1607 he met the distinguished Dutch architect and sculptor Hendrick de Keyser and returned to Amsterdam with him. In 1613 he married de Ketser's daughter, before returning to settle in the parish of St Martin-in-the-Fields, Westminster, where lived until the end of his life.

Stone quickly established a successful workshop in London. He received important commissions from 1614 onwards and from 1616 he was intermittently in the royal service. In 1626 he was appointed master mason and architect at Windsor Castle and in 1632 was appointed as master mason to the Crown. By the end of the 1620s he had become England's leading sculptor in stone and marble and by the following decade he had achieved a similar position in the building trade. He retained this pre-eminence until the end of his working life.

Stone's busy workshop could supply whatever sculpture the market demanded in the materials he used including garden statuary, busts, and full-length figures for the interiors and exteriors of secular buildings, chimneypieces, and, above all, monuments for churches. Apart from the monuments most of this work has perished. Amongst those which survived are a figure of Elizabeth I which was commissioned for the Royal Exchange in the City of London c.1622 which escaped the great fire because it was deemed unsuitable for its purpose and never erected (Guildhall Art Gallery, London) and two ill-preserved statues at Blickling Hall, Norfolk,

Stone's sculpture has , therefore, been judged largely by the memorials he made. These are of great variety and, at their best, of extremely high quality. He conformed to traditional types when nothing more was required of him but he was also capable of giving creative expression to his patrons' personal interests.He was highly responsive to new artistic influences from the continent of Europe.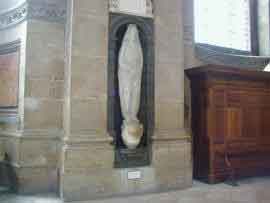 Stone's most celebrated and influential memorial is that of John Donne in St Paul's Cathedral, London (1631–2). It shows the famous poet and divine in his graveclothes, rising from an urn at the sound of the last trumpet. It is based upon a drawing commissioned by Donne himself as he lay dying. It was one of the few to survive the Great Fire of London (1666). However, faint traces of scorching can be seen on the urn beneath.
In his capacity as a master mason Stone works included building the Banqueting House at the royal palace of Whitehall to Inigo Jones's designs (1619–21) and Goldsmiths' Hall in the City of London to designs of his own (1635–8).

Stone's career came to an end with the outbreak of the English civil war. Though prosperous at the close of his working life he was later 'sequestred, plundered and imprisoned', supposedly on account of his loyalty to the crown He died at Long Acre, London, on 24 August 1647 and was buried at the church of St Martin-in-the-Fields. His notebook and account book are preserved in the Soane Museum, London, and give much information about his trade.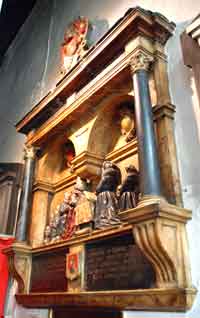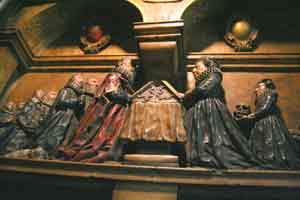 We are very lucky to have a surviving sample of Stone's work in Norwich. His monument to Thomas Anguish (click here for details) was erected in 1617, the same year he constructed monuments to Sir Robert Drury at Hawstead (Suffolk) amd Sir Thomas Hewar at Emneth, Norfolk. Interestingly Drury's monument cost £140, Hewar's cost £95 whilst Anguish's came in at £20 – and even this was double the amount Anguish had left in his will for this purpose ! It's style is of an earlier period and is the last in the genre which is prevalent in the Norwich churches which commemorate Mayors who are depicted in their civic robes kneeling at a prayer desk opposite their wives. Finch believes that "The executors …. had their own ideas, about the type of monument they thought appropriate for Thomas Anguish and that was determined by the tradition of civic commemoration in Norwich and not by Nicholas Stone "